Stop feeling Insecure, Start feeling Confident
Ride with Clear & Effective Aids
Feel Balanced & Elegant in the Saddle
Be a Winner, Raise your Scores
Transform your position. Become the rider you dream of!
Follow and absorb your horse's movement

Establish a steady and soft contact

Look and feel elegant in the saddle

Ride with harmony and balance

Feel secure, confident, and effective in the saddle

Fix bad habits you know you have but just can't seem to get rid of!
When you find and maintain the correct position, you'll be amazed at what your horse is able to do!
⚠️ Fair warning - changing muscle memory is not easy. It takes consistency and grit. But I know how determined you are! I believe in you.
Get ready to transform your position. And win cold hard cash! The top 5 transformations will share the $5,000 purse.
---
"I believe in you! If you're a dressage rider, jumper, eventer, reiner, pleasure rider, or any other discipline, I can help you improve your riding. Regardless of your level or discipline, you need to be in balance with your horse to give clear and effective aids. Invest in your education and let us help you become the rider you've always dreamed of! " -Amelia Newcomb
You will be blown away by your 30 day transformation!
---
With over 30+ Training Videos, a 41+ page downloadable PDF, and a private Facebook Group, you are set up for success.
In this program you will:
Assess and identify your faults

Learn the basics - find your alignment

Develop an independent seat

Be effective and quiet with your legs

Establish a steady and elastic contact\
---
Here's What's Included:
Biomechanics Theory of Rider Position

Mounted Exercises

Unmounted Exercises

Lifetime Access

24/7 Support

USDF Accredited

Community
---
Here's how it works
Start the Challenge May 1st by submitting your 'before' video. Then review the learning material. Join the Facebook group, and participate in LIVE Q&As, mini-challenges, and more! At the end of the 30 days, submit an 'after' video. Our judges will review the videos, find the riders with the top transformations, and award CASH prizes. The top 5 transformations will share the $5,000 purse.
1st Place - $2,000
2nd Place — $1,500 | 3rd Place — $750
4th Place — $500 | 5th Place — $250
In addition, you can win Amelia Swag during the competition by participating in the weekly mini-challenges in the Facebook group and showcasing your exceptional sportsmanship & determination.
---
You're backed by a 30-day money back guarantee!
If you're on the fence, or had other online training experiences that left you feeling skeptical, give this course a try. After a few days, if it's not for you, I'll give you your money back- no questions asked. If you're not satisfied with your transformation videos at the end of the 30 days, I'll give you a full refund. Thousands of my students use these techniques to help their horses, and I know that this program will work for you.
Your Instructor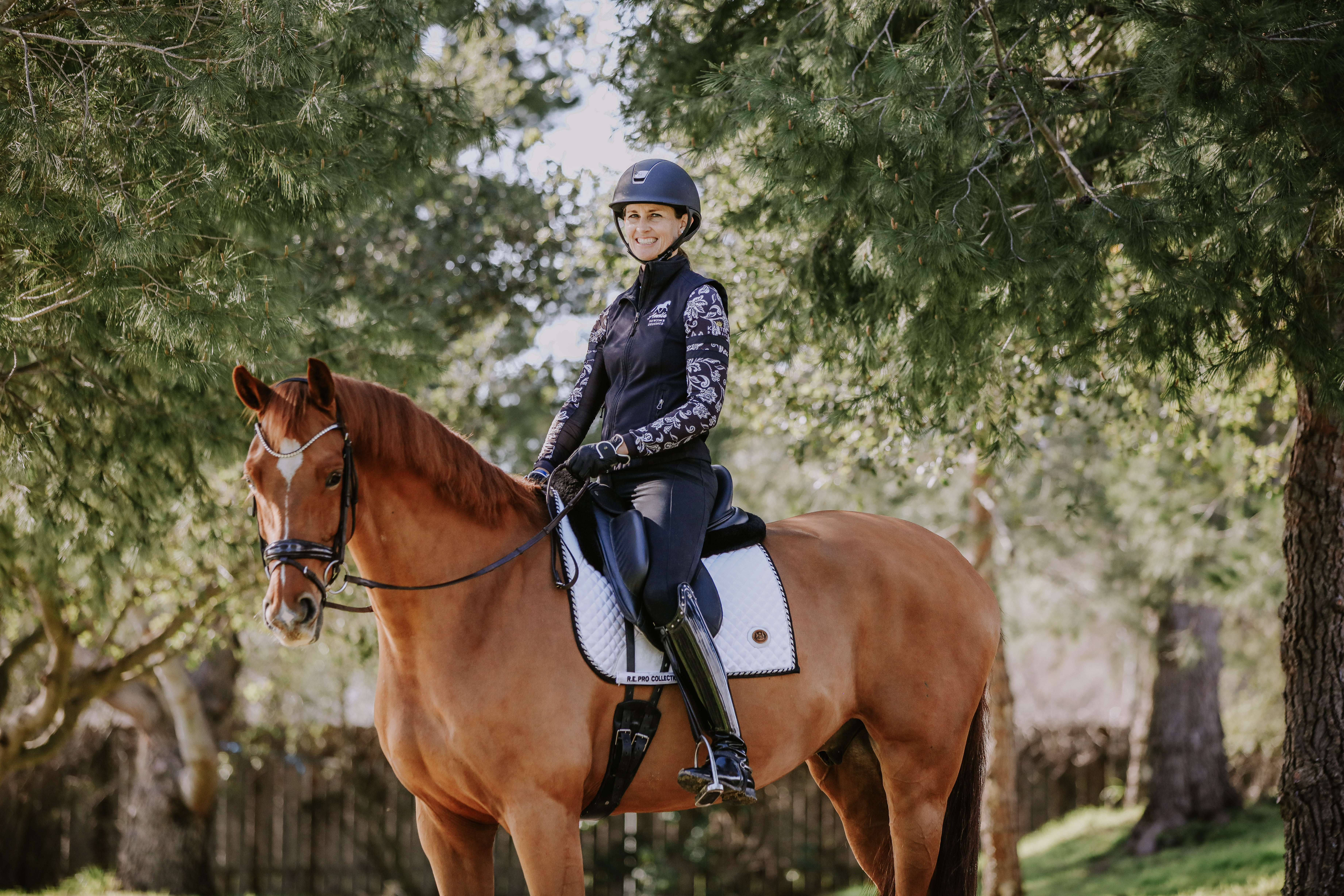 Hi! I'm Amelia Newcomb, a Grand Prix rider and trainer based in Southern California. I have trained multiple horses and riders to the Grand Prix level and am currently a member of the USEF Development Program and recipient of the Carol Lavell Advanced Training Grant with my horse Harvard. I am passionate about teaching riders of all levels and helping you "learn to love your ride."
With well over 50,000 hours in the saddle and training thousands of horses and riders, I can tell you that focusing on your riding position is the number one thing you can do to improve.
Riding your horse in balance from your seat is not only easier for the rider, but it's more enjoyable and clearer for your horse to understand your aids.
I've designed this challenge to give you the education, support, and a deadline to give you the motivation you need to transform your position. I've taught thousands of horses and riders by using this system, and I KNOW it will work for you.
Frequently Asked Questions
When does the course start and finish?
The challenge 'officially' starts on May 1st 2023, but as soon as you purchase you get lifetime access and can get started! The Challenge ends on May 30th 2023 at 11:55pm PST.
How long do I have access to the course?
You will have lifetime access to the material! While the competition itself and the guided live feedback is only during the competition period (ending May 30th 2023). You will always have access to the material to keep working away at it!
What if I am unhappy with the course?
We have cash prizes totally over $5,000 USD and Amelia Swag prizes including: vests, shirts, hats, waterbottles, and more.
How much will we be working with our horses?
Consistency is key to getting a big transformation. If you only ride a lesson horse 1-2 times a week you will still see results by joining this challenge. But the more you work on your position the better they will be, we recommend 4-5 times a week. Remember though, this is quality over quantity. Every session doesn't have to be a long one (sometimes it's only 10 min!) and it's important to listen to your body and your horse.
What if I want to enroll but don't want to participate in the challenge & submit videos?
No problem at all! This can be a challenge with yourself!
How do I know if this challenge is right for me?
This course is designed for horses and riders of ALL levels. Whether you are a beginner Dressage rider just learning about Dressage, or you are an FEI rider, Rider Position is something you're always working on.
What if I am a beginner rider just starting out? I won't be competitive.
This challenge is designed for riders and trainers of all levels. Whether you are just starting out or riding FEI, you can still be competitive in this challenge. Winners are selected based on how much they have improved compared to the start of the challenge. Not who is the best overall.
How do you determine who wins?
To put it simply: Who ever improves the most, WINS! Our panel of judges reviews and compares your beginning and end videos and uses the following categories to judge: 3 focused areas you ID'd, Assessment of Position in the Gaits shown (symmetry & straightness, steady, soft contact, and steady, supple position), Assessment on ability to maintain your position during tactful, willing, and effective transitions, Overall Harmony and General Impression and Participation in the Facebook Group
What if I don't have the time right now?
You should still join! While you won't be eligible for prizes, this challenge is chalk full of valuable information that you have LIFETIME access to! So you can go through it whenever you want -and at whatever pace you want.
Does it come with Support?
Yes! From the time you join the challenge, to the end of the 30 days (May 30th 2023), you get access to myself and my team to ask questions, get advice, additional mini lectures, support sessions, and more!
What kind of equipment do I need?
ASTM approved riding helmet Bridle Reins
Do I need to be on Facebook?
No. You don't need to be on Facebook. You can download all of the educational content to your phone. If you have a question or want to join a LIVE session we recommend joining Facebook! This will allow you to ask questions, share videos, successes, and more! It's also where we'll be posting supporting videos, mini lectures, and hosting the mini-challenges. If you don't have facebook, I would suggest joining just for this challenge.
How do we go about submitting videos?
We want everything to be fair for everyone. A few days before your 'before' videos are due, you will get a poster and code word that you film to 'date' the start of the video. The 'after' poster and code word will be released near the end of the challenge. There is a whole section in the course regarding the tech side of submitting videos.
What if I'm in Strides with Amelia? Should I still join this Challenge?
You already have access! As a Strides Member, you get access to Amelia's challenges. You will automatically get the challenge course material added to your teachable course mid April. You get access to the premium LIVE sessions too! This is a great opportunity to get more 'time' with Amelia and Team
This course is closed for enrollment.