In this workshop, we will be focusing on the Aids. Since we cannot communicate with our horses using spoken words and sentences, we use aids to communicate. "Aids" are basically pressure and relief of pressure and we communicate with our horses through feel. The main aids that we use are as follows:

Leg aids - the driving aids
Rein Aids - the restricting aids
Seat - the translator between the driving and restraining aids.
I've been reading a wonderful book, The Art of Horsemanship by Udo Bürger. He says "the aids must always be adapted to the degree of understanding and physical strength of the horse. They must therefore vary in intensity, and in form, and will have to be used separately or in combination according to progress. Eventually, the aids should become indications rather than commands." This workshop teaches you just that!
With enrollment in this workshop, you will receive:
Assessment Worksheet
Zoom Theory Lectures
Riding Videos and Exercises
Ability to ask Amelia questions at any time
Lifetime access to the workshop
Your Instructor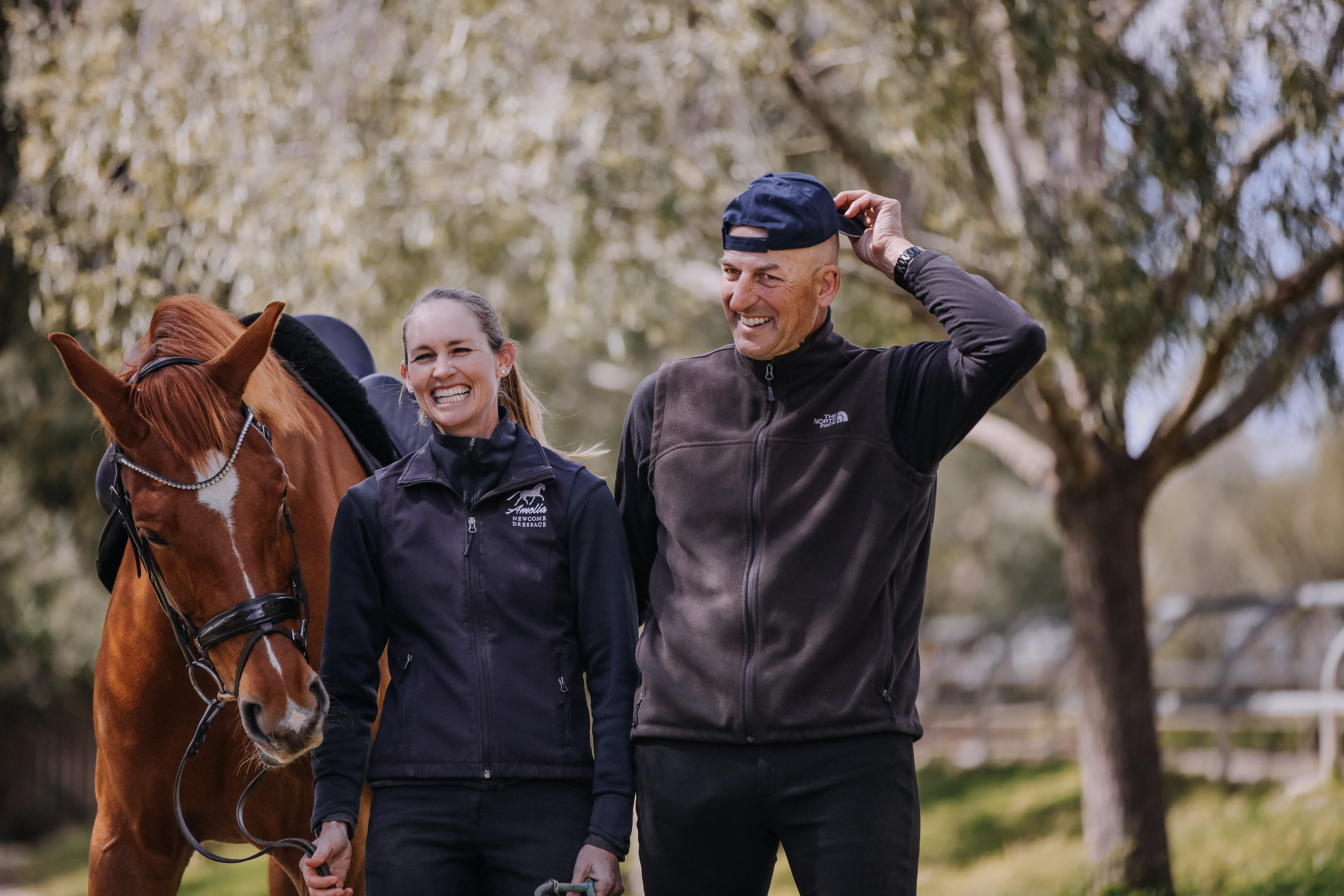 This course is co-taught by Amelia and her husband Germán Schneider. Amelia is an international level Grand Prix rider who is passionate about sharing her knowledge and experience with her students. She competes and also trains thousands of people all over the world through her unique proprietary online training and video programs. Amelia's training platform provides education and support for her students and passionate riders, regardless of age, discipline, or location to improve and make big changes in their riding abilities.
Germán, Amelia's husband, is also a Grand Prix level rider and trainer. He is an amazing teacher and excels with teaching amateurs to ride. Germán has a gift for simplifying complicated movements and giving riders confidence with their horses. Amelia and Germán often work together to create curriculum and programs for students that breaks riding down into a simple proven system that anyone can follow and get results. It's crazy but it works and Amelia has over 100,000 online followers. The transformations that her students get are insane and her business is changing the entire sport of Dressage and the way people learn to ride.
Frequently Asked Questions
How long do I have access to the workshops?
You will have lifetime access to this workshop!
What if I am unhappy with the lecture?
We would never want you to be unhappy! If you are unsatisfied with the workshop, contact us in the first 14 days and we will give you a full refund.
What if I am a beginner rider just starting out?
These workshops are designed for riders and trainers of all levels. Whether you are just starting out or riding FEI, the workshops will give you specific exercises to practice and teach you the theory of dressage.
These workshops are an amazing opportunity to enhance your training program. Whether you are in full training with a trainer or working mostly alone, these workshops will help you to understand the theory of Dressage and help you analyze the specific issues you are having with your horse and how to best approach them. Often it is difficult when you are in a live lesson to really understand the theory of Dressage training and to analyze the situation and problems you are having!!