Flying Changes Made Simple: Clean, Correct, and on the Aids in Just 6 Months
Break it Down, Focus on the Basics, and Explain the Aids
A lot happens in a split second! Learn my formula, and confirm your changes.
Teaching flying changes doesn't need to be stressful and complicated.
By the end of this program, you'll have mastered (set this up in blocks)
Flying Change Theory - Learn the correct aids, timing, and biomechanics to execute a flying change
Improve your Canter Quality - The more uphill, engaged, and active your canter, the easier the changes
Exercises to teach the changes - you MUST know these figures when introducing the changes
Troubleshooting - solutions for late changes, anticipation, bucking, airs above ground, explosive changes, and more!
Tempi changes and ZigZags - tempi changes, canter half pass zig-zag, one tempi changes and more!
And More!
A good flying change feels like flying - it is the most incredible feeling.
How the Course Works:
Once enrolled, you get instant access to the content and can get started. You'll have lifetime access to the course so that you can work through it at your own pace.

Once inside the course, you can ask written questions at any time in specific lectures.

We have paired this Masterclass with Strides with Amelia and we strongly suggest enrolling in this monthly program for the next 4-6 months to get the full benefit of this Masterclass (if you are not already a member). Strides gives you access to LIVE office hours where you can submit your riding video for review and get coaching feedback from Amelia and Team. Plus you get all the other great Stride benefits (see below). You add your Strides Membership to your cart during checkout.
If you get into the material and then realize that this course isn't for you, no worries! We offer a 30-day money-back guarantee. I never want you to be unhappy, which is why I won't hold you in a program you don't want to be in it. It's ZERO RISK for you if you get in and don't enjoy the program.


After that, it's just applying the program to your riding!
Make the Most out of your Masterclass.
Flying Changes are the hardest thing to teach and ride correctly. You cannot do it alone...and you don't have to! To make the most out of this Masterclass, we've paired it with Strides with Amelia.
We highly recommend joining Strides for: video review of your rides, community support, and answering your questions LIVE in office hours.
In addition to the masterclass content, you'll also get the following educational content in Strides:
New Workshop Topic Released Each Month

LIVE Zoom Lectures
Community Support
Private Podcast
Motivation & Accountability
LIVE Pilates Classes
University Credit from USDF
Access to Amelia's Challenges

Lifetime Access

Access to Past Workshops
Add Strides with Amelia after you enroll in this course.
Your Instructor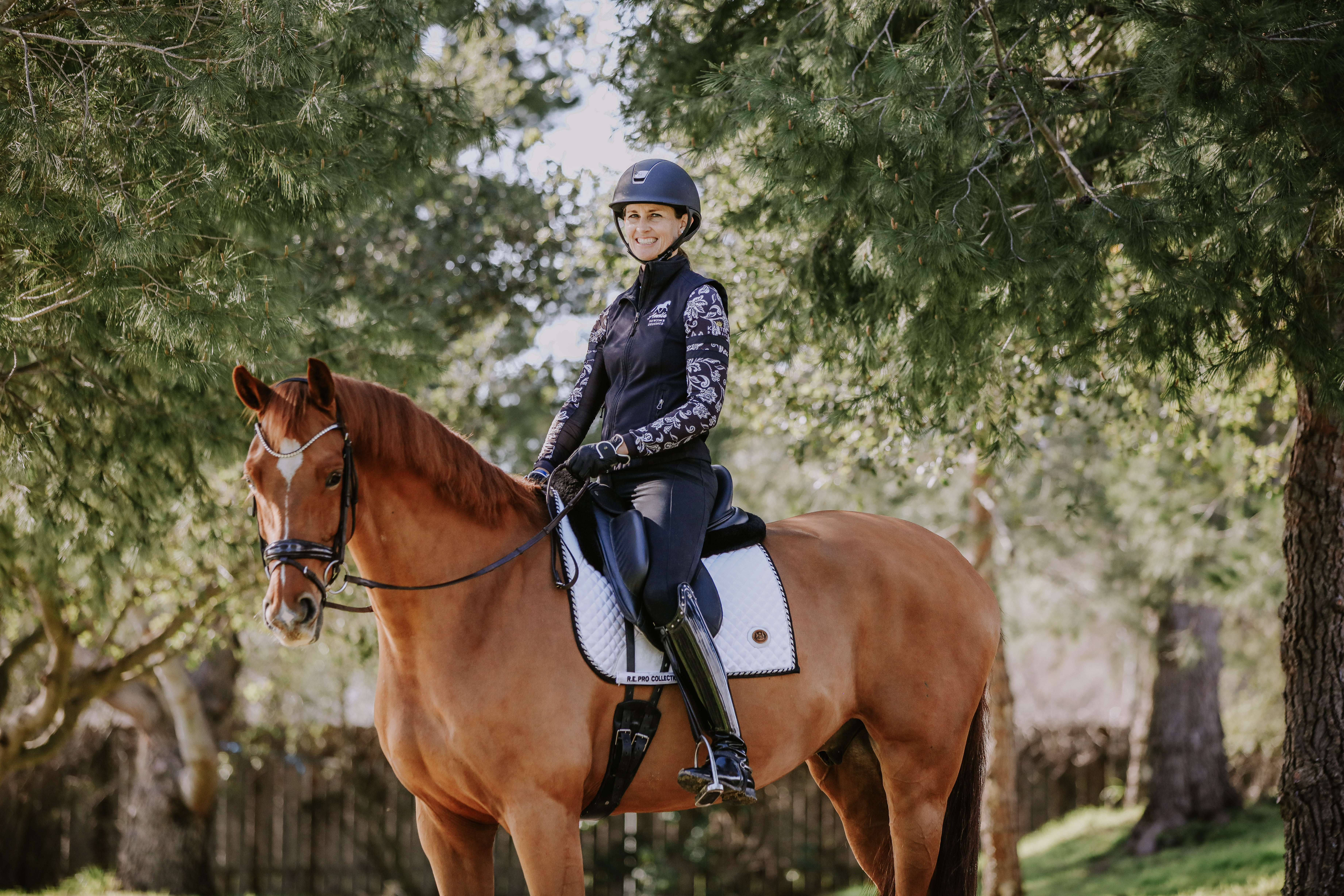 Hi! I'm Amelia Newcomb, a Grand Prix rider and trainer based in Southern California. I have trained multiple horses and riders to the Grand Prix level and am currently a member of the USEF Development Program and recipient of the Carol Lavell Advanced Training Grant with my horse Harvard. I am passionate about teaching riders of all levels and helping you "learn to love your ride."
With well over 50,000 hours in the saddle and training thousands of horses and riders, I can tell you that focusing on your riding position is the number one thing you can do to improve.
Riding your horse in balance from your seat is not only easier for the rider, but it's more enjoyable and clearer for your horse to understand your aids.
I've designed this challenge to give you the education, support, and a deadline to give you the motivation you need to transform your position. I've taught thousands of horses and riders by using this system, and I KNOW it will work for you.
Course Curriculum
What is a flying change? What are the aids?
Available in days
days after you enroll
The Basics (Pre-requisites)
Available in days
days after you enroll
Exercises for Teaching Flying Changes
Available in days
days after you enroll