This is a bundle of the Dressage Rider Position Masterclass and the complimentary Premium Support Package.
Do not purchase this bundle if you have already enrolled in the Dressage Rider Position Masterclass. You simply have to just enroll in the Premium Support Package.
The Masterclass
"Only a rider in the correct position can give the correct aids." The number one thing YOU can focus on and correct if you want to improve your riding is your position. The good news is that you don't have to buy a new fancy horse to work on your position and now is the perfect time to work on and correct your bad riding habits.
At the end of this masterclass you will be able to:
Understand exactly what every single part of your body should be doing in the saddle
Be more stable and straight while riding
Increase your flexibility and able to absorb your horse's motion/movement
Strengthen specifically targeted muscle groups to fix common rider faults
Ability to "practice" riding and training your muscle memory while off your horse
Learn specific exercises & work out to ride better
Gain strategies to fix bad habits
The Details
This will be an intense 6 weeks (starting immediately upon enrollment) on correcting and perfecting your riding position! But it doesn't end after 6 weeks- this course content is yours forever! So you can keep taking the course over and over again! For this enrollment there will be an orientation call on Tuesday, June 14th 2022 and a wrap-up call on Sunday, July 24th 2022. Those sessions will be recorded if you can't make it LIVE.
Taught by main instructor Amelia Newcomb, this course is also co-taught with Stephanie Seheult, DPT who is part of an elite group of physical therapists recognized by the USEF to treat equestrian athletes.
This is a 6-week course and each week you get a lecture, new videos, worksheets, and exercises released to you covering riding theory, mounted exercises, biomechanics theory, physical therapy exercises, full-body workouts, and more!
Week 1: Riding Position Basics
Week 2: The Seat
Week 3: The Legs
Week 4: The Hands, Arms, and Shoulders
Week 5: Circles, Turns, and Lateral Work
Week 6: Asymmetric Riders and Final Wrap up
Other benefits of this Masterclass:
Lifetime access
Recorded Pilates Classes
Ask questions at any time
Community Support
Receive 3.5 USDF Credits
Your horse will thank you for making his job easier!
If you're dedicated to improving your riding position this is the course for you! The course is designed to explain exactly how to move your body with the horse and effect your horse from the saddle. It also includes unmounted exercises to specifically strengthen and activate the muscles that are needed for riding. It is essential to exercise, strengthen, straighten, and stretch your body before your ride or on days you don't ride so that when you do get on, your body is ready to RIDE!!!
The 6-week Premium Support Package to your enrollment to get access to additional LIVE support and feedback! You will receive:
Weekly office hours with Amelia and Team
Submit your riding videos for individual feedback
4 LIVE Pilates Classes with Stephanie
Private Whatts App Group
Community and instructor support for motivation and accountability
Fun Challenges
Answers to your individual questions via video/chat
Joining the Premier Support Package is the right choice for you if you feel like you need that extra support, community, accountability, motivation, and get specific help that you need for your horse and journey.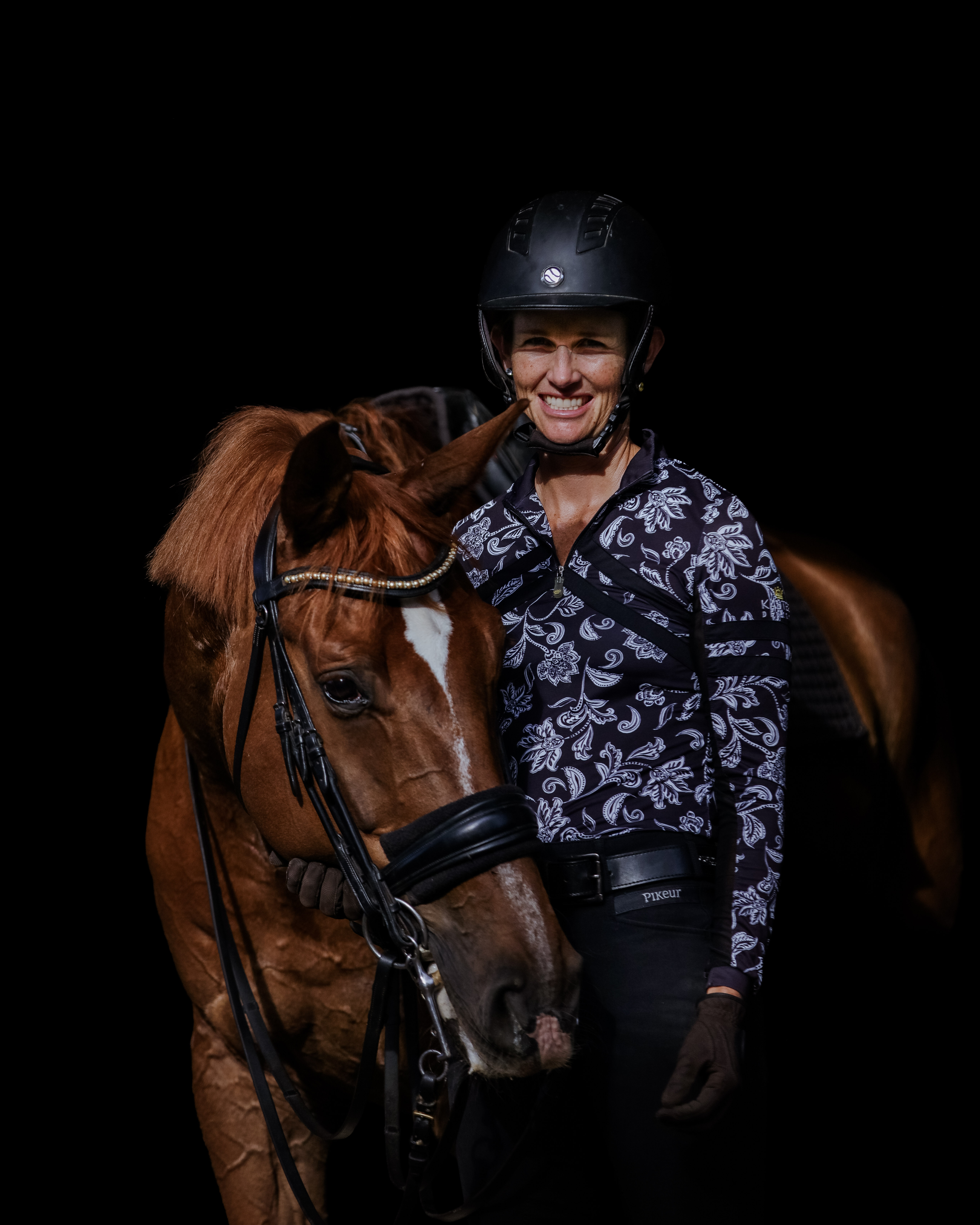 As a dressage trainer, my goal is to make good training accessible to everyone who is interested in learning. I want to help YOU "learn to love your ride!"
~ Amelia
Amelia works to develop a trusting and confident relationship between horse and rider. Using elements from both natural horsemanship and classical dressage, Amelia creates a holistic approach to dressage training that adapts to fit the needs of each individual horse and rider. Starting with basic groundwork and progressing to the Grand Prix, Amelia emphasizes trust, understanding, and relaxation for both horse and rider.
Amelia also enjoys teaching and sharing her knowledge and experience with her students. "I have been blessed with many great teachers in my career and I hope to help each and every one of my students develop a connection and solid relationship with their horses." A passionate dressage trainer, with a goal of reaching and helping a larger number of riders than one-on-one in-person training allows, Amelia has expanded her training program to the online community.
Amelia Newcomb is a USDF Bronze, Silver, and Gold Medalist, and a member of the prestigious USEF Dressage Development Program. She has trained and competed close to 50 horses in almost 500 competitions, and has trained several horses that she started as youngsters all the way up to the Grand Prix. Amelia hopes one day to compete internationally and to represent the United States at the Olympics.
Amelia Newcomb Dressage is based in Somis, California, where Amelia offers complete and correct dressage training from breaking the young horse through the FEI level.

Bundle Contents
Showcase courses and coaching in your Bundle.