Strides with Amelia

Strides with Amelia is all about giving you everything you need to improve in your riding. Regardless of your level, whether you are new to riding or already competing in dressage, you will get specific step-by-step exercises for you to incorporate into your riding routine, plus you'll learn the theory behind each exercise. Exercises are rated as Novice, Intermediate, or Advanced so there really is something for everyone in Strides!
Dressage is HARD. It's even harder to do alone-without the support and tools you need!
When you enroll in Strides, you will receive:
New monthly coursework
A clear structure for your training and your rides
A toolbox with specific exercises for training issues
What to prioritize in each training session
Lifetime access to courses purchased during your membership period
The ability to submit video of your riding for Amelia to comment on
LIVE Monthly Zoom lectures (recorded to watch again)
Private Podcast
The support of an online community to help you
Motivation and Accountability
LIVE Pilates Classes
Access to a Grand Prix rider and trainer to answer your questions
The ability to make measurable progress and actually move up the levels!
NEW THIS YEAR! In 2023 we are planning on hosting two 30 day challenges. Strides members get automatic enrollment into these additional programs at no extra cost.
Strides is designed to give you the encouragement, education, and accountability that YOU need to make progress and reach your goals in dressage!
Enjoy a new workshop each month (plus access to previous workshops), with new exercises, a LIVE theory lecture, a private facebook group for community support, Office Hours, worksheets, and the ability to submit your videos to Amelia for feedback, and MORE.
On the first of the month, Amelia will release the new video exercises and worksheet for you to start practicing before the live Zoom lecture. The live Zoom lecture is always recorded and available for you to watch at your convenience – so don't worry if you can't make the LIVE call.
In addition, you will have access during your membership to past monthly workshops so you can always go back and look at previous coursework. You will also have lifetime access to all Strides content released during your membership period, even if you cancel!
There is so much packed into this monthly subscription-based membership, we are sure you will be thrilled with it once you join! If not, you can cancel your membership within 15 days with our money-back guarantee, no questions asked.
Upcoming Schedule:
Janurary 2023- Horse and Rider Fitness
February 2023- Equine Health and Well Being
March 2023- Connection
April 2023- 30 Day Rider Position Challenge
May 2023- Throughness
June 2023- Figures, Patterns, and Competition
And more!
Dressage riding is very much a process and requires consistent training to make progress. Strides with Amelia is a way to stay motivated and take strides to achieve your goals. I want to get you the results that you want in your riding and the relationship you dream of with your horse. Education, consistency, and a support network are what you need to accomplish it and I've worked hard when creating Strides to ensure you get all of that.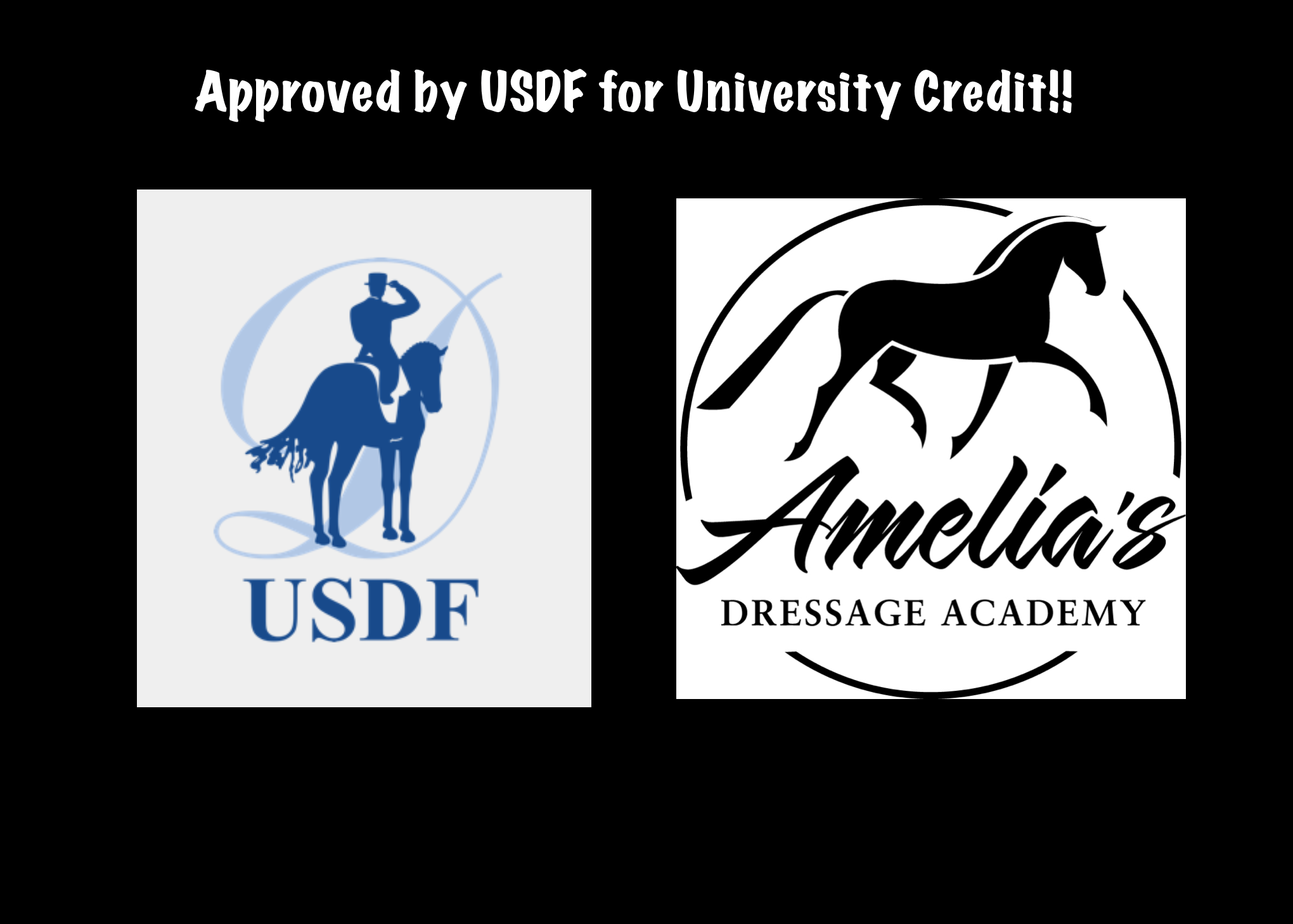 Your Instructor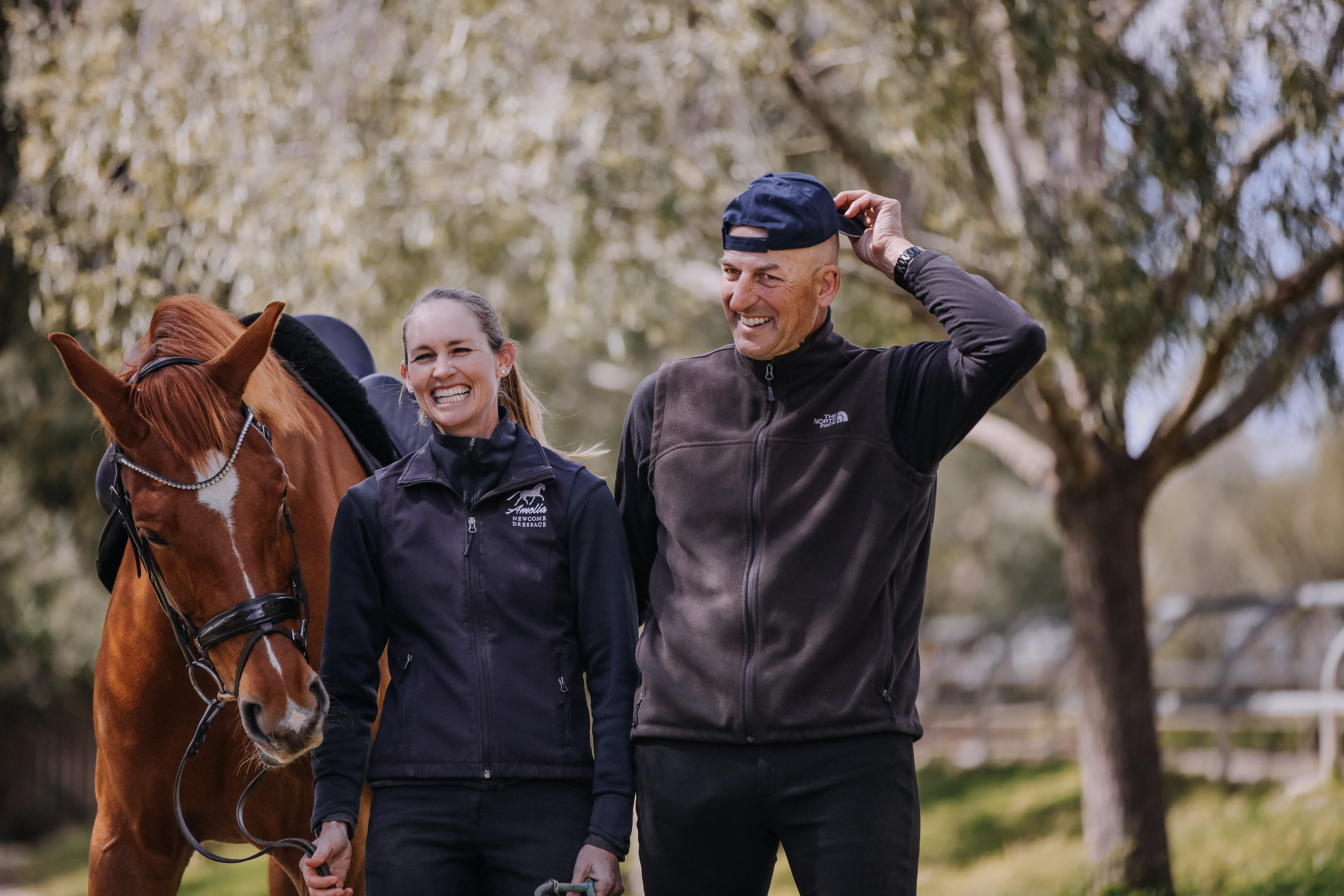 This course is co-taught by Amelia and her husband Germán Schneider. Amelia is an international level Grand Prix rider who is passionate about sharing her knowledge and experience with her students. She competes and also trains thousands of people all over the world through her unique proprietary online training and video programs. Amelia's training platform provides education and support for her students and passionate riders, regardless of age, discipline, or location to improve and make big changes in their riding abilities.
Germán, Amelia's husband, is also a Grand Prix level rider and trainer. He is an amazing teacher and excels with teaching amateurs to ride. Germán has a gift for simplifying complicated movements and giving riders confidence with their horses. Amelia and Germán often work together to create curriculum and programs for students that breaks riding down into a simple proven system that anyone can follow and get results. It's crazy but it works and Amelia has over 100,000 online followers. The transformations that her students get are insane and her business is changing the entire sport of Dressage and the way people learn to ride.
Course Curriculum
Welcome to Strides with Amelia!
Available in days
days after you enroll
Get started - choose the workshop that's right for you!
Available in days
days after you enroll
Ride the Horse you Have - Make and Measure Your Progress - December 2023
Available in days
days after you enroll
Frequently Asked Questions
What if I can't make the live zoom call?
Don't worry! The call will be recorded and you can watch the replay! Sign up anyway! The audio quality is actually even better on the replay!! Not only that but we also make the lectures into Podcasts so you can listen on the go - I know how busy you are!!!
How long do I have access to the workshops?
You will have lifetime access to the workshops that are released during your membership - so don't worry if you get behind or need to take a break. When you enroll in Strides, you will also get access to many of our past workshops - which you will have access to for as long as you are a member of the Strides community!
What if I am unhappy with the lecture?
We would never want you to be unhappy! If you are unsatisfied with the workshop, contact us in the first 30 days and we will give you a full refund.
What if I am a beginner rider just starting out?
These workshops are designed for riders and trainers of all levels. Whether you are just starting out or riding FEI, the workshops will give you specific exercises to practice and teach you the theory of dressage. Even I learn something new each month as I create these presentations!
When will I be charged?
You will be charged once a month for this subscription. You can cancel at any time.
These workshops are an amazing opportunity to enhance your training program. Whether you are in full training with a trainer or working mostly alone, these workshops will help you to understand the theory of Dressage and help you analyze the specific issues you are having with your horse and how to best approach them. Often it is difficult when you are in a live lesson to really understand the theory of Dressage training and to analyze the situation and problems you are having!!
Hope to see you in Strides!!